Recently, I made the 2200 km round trip drive from Bratislava, Slovakia, to Bucharest, Romania, in an all-electric VW id3. While long, the trip was smooth and the recharging infrastructure reliable and high quality.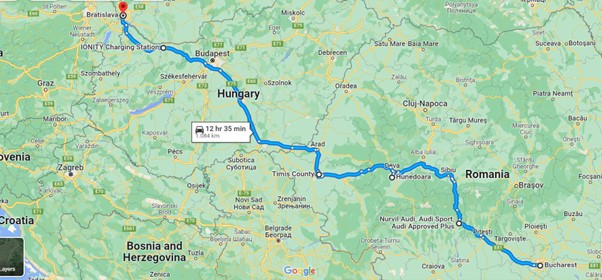 Overall, along the main roads that we took, the recharging experience was very positive. The EV charging infrastructure is more than adequate to make the drive and was overall of high quality and reliable with plenty of 50+ chargers along the way, in Hungary from mobiliti, MOL Plugee, and Ionity, and in Romania from Renovatio, Audi/Moon, and MOL Plugee. In Romania we also saw EnelX (and Tesla) chargers, though we didn't use them. Though of course we needed to map the locations and distances – which was very simple and straightforward thanks to GreenWay's roaming partnerships with a number of them - chargers were located at regular intervals along the road, and we even had options to choose between.
We found that existing gas station locations, or more fully developed rest stops on the highway, provided the best overall experience, with charging stations (even choices between providers) and amenities. Shopping centers situated just off the highway did as well, though we would sometimes need to drive around big parking lots to find the stations. Better sign posting of the stations would be useful. The stations usually had lighting, so finding them at night was sometimes easier than during the daytime.
Some of the stops we made in Romania were at Audi or Mercedes dealerships, to use the alpitronic hyperchargers operated by Moon/Renovatio there. At 175 or 300 kW, these (and the Ionity stations) were the fastest chargers we used on the trip. However, the 60 kW battery pack in our id3 couldn't recharge faster than at 85 kWh so while still able to recharge our vehicle very quickly, we never reached the full potential of these chargers.
Shopping centers. Grocery Stores. Car dealerships. It's certainly true that driving – and charging – an EV takes one to places one wouldn't otherwise visit while traveling!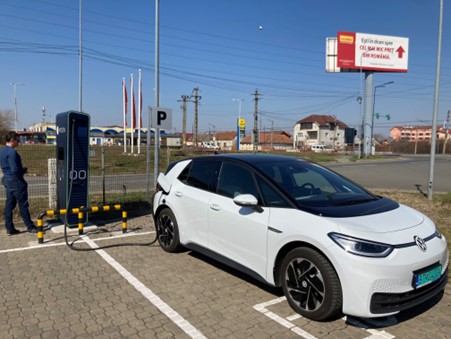 Photo location: VW Service Quark Motors Arad
We did encounter some glitches with activation of sessions using the roaming function on the mobile app and with our RFID card. In these cases we used the native application of the mobility service provider in question. The solution was pretty easy as long as you are willing to try a few things to make it work – but it still wasn't smooth and seamless as it should be for brand new EV drivers or those on their first long distance trip.
Even with a ~300 km range of the vehicle, since most of our driving was on highways or similar main roads, (where consumption is faster because of the aerodynamics, because we tend to drive faster, sometimes over optimal speeds from a consumption perspective, and we do not really have the chance to use regenerative braking) we were conscious of the range and our consumption. In some cases we took a route that was not necessarily the fastest, but was shorter, so that we would extend our range. But, two times we also went out of our way to see something special or visit a shop that was recommended to us, which thinks to the range of charging options, was never a concern.
The charging curve at various times in the batterie's charging cycle was really interesting to watch. It never charged at more than 85 kWh, and we could watch the power level slow down as the battery approached 90%. At some locations we saw the power level never rise to even what we knew our vehicle could handle, likely due to other factors like the how much power the CPO paid for, or what the cables could handle.
While it's not a drive I would want to do too often, there were no real problems or insurmountable issues with driving electric through this part of Central/South/Eastern Europe.
Description of charging on route
STOP #

Distance traveled between sessions

Time spent charging

Arrived km / capacity

Depart km/capacity

Capacity charged

CPO

Charger power (kW)

COSTS:

DAY 1

Depart Bratislava

NA

253 km

STOP 1 Mobiliti before budapest (Mocsa)

140 km

00:16:00

174 km / 42%

57%

10 kWh

Mobiliti

50

Stop 2 Ionity (szigetszentmiklos, HU)

91 km

00:17:00

53 km / 18%

114 km

Ionity

175

Stop 3 Hotel Bestseller Hotel Bestseller, Kecskemét, Szüret u. 11, 6000 Hungary

80 km

08:00:00

5% 14 km

80 km

NA

2

DAY 2

Stop 1 (Decathlon, Kecskemét, Dunaföldvári út 2/b, 6000 Hungary)

2 km

00:39:00

80 km

209 km / 81%

29.3 kWh

Mobiliti

50

DC - 250 ft / kWh ; DC 40 kW 200 ft / kWh ; AC = 200 ft / kwH, + 500 FT start charging fee

Stop 2 - (VW dealer and Service Quark Motors Arad)

185 km

00:40:33

35 km

227 km/83%

41.78 kWh

Moon / Renovatio

175

Stop 3 - (Trans Iviniș & Co, Strada Mihail Kogălniceanu 61, Sebeș 515800, Romania) - off A1

206 km

01:05:57

18 km

251 km

47.12 kWh

Renovatio

50

Stop 4 - Auchon Pitesti (arges, Ro) - DN 65 B, Nr F4 Comuna Bradu, Sat, Geamăna 117141, Romania

237 km

00:25:11

73 km / 18%

171 km

19.36 kWh

Renovatio

50

DAY 3

MOL Bucharest

113 km

01:17:00

38 km/9%

309 km / 100%

55.485 kWh%

MOL Plugee

50

Cost: 113.37 RON)

DAY 4: Depart Bucharest 730 AM, 100% 262 km

Stop 1 : Nurvil Audi, Audi Sport, Audi Approved Plus, DN67 52, Râmnicu Vâlcea 240501, Romania

178 km

00:45:00

97 km

263 km / 90%

41.44 kWh

Moon / Renovatio

300

Stop 2: Dreva shopping mall (Hunedoara)

232 km

01:26:00

41 km / 12%

292 km / 99%

Renovatio

50

Stop 3 : VW dealership Timisoara (Timis)

178 km

00:38:13

142 km / 46%

271 km / 92%

26.66 kWh

Moon / Renovatio

175

Stop 4: Family Hotel Hungary (Balastya, HU)

159 km

01:05:00

70 km / 24%

275 km

Mobiliti

50

Stop 5: Ionity ( Acs, HU)

236 km

00:26:00

28 km / 8%

183 km

Mobiliti

350

Bratislava

109 km